Some road trips take only a few hours, while others require days or weeks to fully appreciate the sights, activities, and ambiance of each location. A road trip from Québec to Mont-Tremblant, passing through Montréal, is the latter. Take your time to soak up the rich culture and history of vibrant Québec City before setting out for the picturesque mountain village of Mont-Tremblant.
Home to one of the most beloved ski resorts in Eastern Canada, Mont-Tremblant is a year-round destination. If it's charming and beautiful the rest of the year, just imagine how idyllic it looks in the snow. Even though the drive between Québec to Mont-Tremblant is less than 4 hours, you should take your time, as there are natural wonders and the grand city of Montréal along the route.
Midas wants to help you get ready for your summer road trip, starting with your vehicle. Our techs can run a completely free Closer Look Vehicle Check. This in-depth visual inspection lets you know what needs fixing now and what can wait, so you can hit the road with confidence. 
Make the trip before the trip to Midas and get $20 off a full-synthetic oil change. Request your appointment at Midas.com.
Find a Canadian Midas location along your route here.
Québec is an Algonquin word that translates to "where the river narrows" and the entire province was frequently referred to as la belle province or "the beautiful province." Since its founding in 1763, the predominantly French-speaking Québec has retained a unique cultural identity. In fact, it has multiple identities that complement each other: It's both European and North American; cosmopolitan and naturally wild. City folk will enjoy the sophisticated metropolises of Montréal and Québec City and in particular the historic charm of Old Québec. Those more inclined to a holiday outdoors will want to escape to the Eastern Townships and spend time along the coast.
Start your journey outside of Québec City with a visit to Canyon Sainte-Anne—it's a monumental achievement and a natural wonder in every sense of the phrase. A waterfall flows down into a canyon and offers visitors an up-close-and-personal tour via one of the three suspension footbridges that go across the canyon. The gorge was carved over time by the Sainte-Anne-du-Nord River, just a short distance away from Beaupré, Québec.
For sci-fi aficionados this canyon may be familiar to Battlefield Earth fans (yes, the one where John Travolta plays a weird Klingon-esque alien warlord). There's plenty to do in the surrounding area, like visiting the Sainte-Anne-de-Beaupré Basilica, the Mont Sainte-Anne ski resort, Montmorency Falls, and the Cap Tourmente National Wildlife Area.
This year-round waterfall park is further proof that Québec has its fair share of natural wonders. Located only a few minutes from downtown Québec City, these falls are actually higher than Niagara Falls. Just like Canyon Sainte-Anne, there are a few ways to enjoy the view: You can take a cable car, walking tour, cliff-top footpath, suspension bridge, cliffside staircase, or experience the waterfall via a double zipline.
As you make your way into Québec City, you may feel transported through time and space as its old-world charm comes to life. This walled city has a rich French heritage, thanks to Samuel de Champlain's visit in 1608. The grand capital city overlooks the Saint Lawrence River with colorful homes all in a row and the hilltop Château Frontenac, a stately hotel, serving as a magnificent focal point. A visit to Québec City Old Town is a must to take in the colonial architecture and tales. Of course, this cultural city is overflowing with chic restaurants and art galleries. Celebrate la joie de vivre!
Walk through more than 300 years of history at the Citadel of Québec, a fortress that's still operating as an active garrison, home to the Royal 22e Régiment. Built between 1820 and 1850, this impressive piece of architectural achievement remains the largest British fortress in all of North America. Located on Cap Diamant, the star-shaped fortress offers guided tours of the various structures, including a 19th-century military prison. Tours are offered in both English and French, and should you visit in the summer, you'll be able to see the Changing of the Guard.
It doesn't get more charming than Old Québec, and should you find yourself strolling along the historic streets, wander over to Rue Sainte-Ursule for a charming meal at one of the best restaurants in the province, Restaurant Le Saint-Amour. The romantic setting has views of a magnificent year-round interior garden, and the French cuisine is impeccable.
One of the coolest hotels in the country is arguably the Hôtel-Motel Coconut, located on Le Chemin du Roy, near downtown Trois-Rivières. This hotel is kitsch at its absolute finest, offering a fun contrast to the grandness outside. It was established more than 50 years ago and is still going strong. The best part: The on-site Polynesian-inspired tiki bar offers a taste of the tropics… in the middle of Canada. It's just a short walk to the Saint Lawrence River, and right off Highway 138.
Fort Richelieu was built in 1641 along the Richelieu River, as one of five forts designed to protect travelers along the river. In fact, the entire area surrounding Fort Richelieu is known as La Vallée-des-Forts. So, prepare to unleash your inner history buff and step back into the 17th century.
The Notre-Dame Basilica de Montréal is one of the most beautiful buildings on the continent. It was built between 1824 and 1829, and at one point was the largest church in North America. Its Gothic Revival style is incredibly opulent and literally sparkles with rich reds, deep blues, purples, and glittering silver and gold stars. There are hundreds of wood carvings, and massive stained glass windows that depict scenes from the early days of Montréal's religious history.
There's also a Casavant organ, which dates back to 1891. This incredible piece of musical equipment has four manual keyboards, 7,000 pipes, and 92 stops using "electro-pneumatic action and an adjustable combination system." It's pretty cool, and visitors can go on a seasonal tour to take a seat at it.
Parc Jean-Drapeau is just east of downtown Montréal, along the Saint Lawrence River. The park is actually two islands, Saint Helen's Island and Notre Dame Island. Built for the Expo 1967 World's Fair (themed "Man and His World"), both islands are actually artificial. The islands hosted pavilions that represented more than 60 countries from around the world. Currently, the island park is home to an amusement park, a casino, an environmental museum, a historic fort, a Formula 1 racetrack, a music venue, a pool, and a beach. There are also plenty of hiking, biking, and skiing trails.
While Québec City might be considered by some to be the heart of Québec, Montréal is actually the province's largest city (and Canada's second most populated). While Québec City has the stately Château Frontenac as its focal point, Montréal has shimmering skyscrapers. But, don't let those fool you, this remarkably cosmopolitan city also has its cozy enclaves.
The historic Old Town's cobblestone streets and buildings will make you forget the bustle of the city beyond. But don't forget for too long because there are so many sights to explore, from the scenic Parc du Mont-Royal (located on the hill that helped give the city its name) to the Jean-Talon Market (for a true taste of the city).
When it comes to whimsical wonderlands, it doesn't get more beautiful than the Montréal Botanical Garden (or Jardin Botanique de Montréal). This sprawling wonderland is full of themed gardens and lush greenhouses, and is, in fact, a National Historic Site of Canada. In addition, it's won global acclaim as one of the top botanical gardens in the world, due to its extensive collection of flora and fauna.
Founded in 1931, the garden defied the odds by opening during the Great Depression. Architecture buffs will love the Art Deco building, which was designed by famed architect Lucien Kéroack. There are also other natural attractions in the city like the Biodome, Insectarium, and the Rio Tinto Alcan Planetarium.
Chez Girard is a quaint restaurant and inn that's located in Sainte-Agathe-des-Monts. Its waterfront location is just a short 5-minute walk from the beach. The restaurant serves wild game and, due to its proximity to the water, delicious seafood as well.
Views of verdant, rolling hills and pine trees replace the cityscape as you make your way to Mont-Tremblant (Algonquin for "trembling mountain"), which is one of the most beautiful cities in Canada. The former logging town was settled in 1872 and has retained its historic charm, from cobblestoned streets to brilliantly-colored buildings. Tucked away in the Laurentian Mountains of Québec, it's probably most famous for its ski resort, but it's so much more than a ski town. There are plenty of opportunities for outdoor activities year round, like hiking, dog sledding, golfing, ziplining, canoeing, fishing, etc. The city is also home to the Circuit Mont-Tremblant race track, which hosts three racing events throughout the year.
One of the best places to stay in Mont-Tremblant is the Hôtel Quintessence, a truly lush lakefront boutique hotel just a few minutes walk from the village. When planning your visit, keep in mind that ski season runs from November through April. But don't just limit yourself to outdoor activities—why not enjoy a fondue tour or just spend a weekend in a log cabin cuddled up with some maple syrup delicacies?
If you want to really get back in touch with nature, head to the Scandinave Spa, where there's a no-talking policy at the outdoor hot tub—it's totally worth it when you see deer frolicking past you while you're soaking in the steamy waters. And no visit to Mont-Tremblant is complete without checking out Versant Soleil, where you'll find one of the continent's only ski-in, ski-out casinos.
Are you worn out yet? Believe it or not, this itinerary only gives you a tiny sample of all this region has to offer. If you're making a return trip to your starting point, you can find a host of fascinating stops along the way. Or, you can set out toward the great wilderness beyond these population centers, where you'll find forests and lakes, coastal towns, national parks, and so much more. By the time you're done, you'll truly understand why Québec is called la belle province.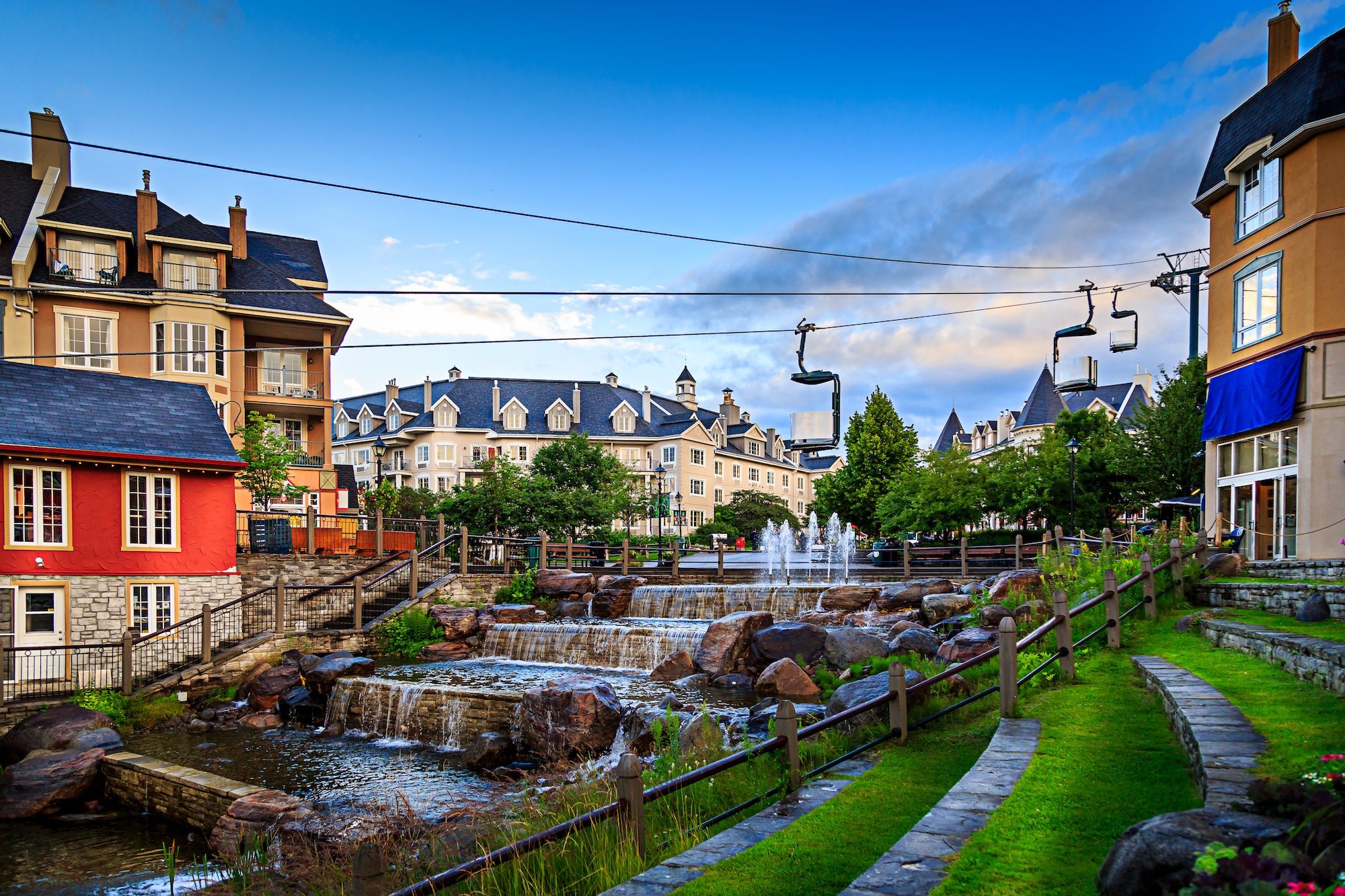 Midas wants to help you get ready for your summer road trip, starting with your vehicle. Our techs can run a completely free Closer Look Vehicle Check. This in-depth visual inspection lets you know what needs fixing now and what can wait, so you can hit the road with confidence.